Step 1
After receiving the commission to do a children's book, I receive a manuscript to review and, in this case, also had the opportunity to meet with the art director and author.
In this meeting, the key scenes are identified and ideas are noted for developing these into illustrations (Figure 1).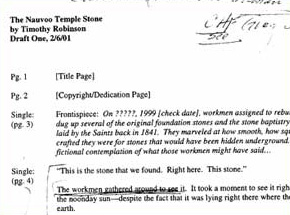 Figure 1: Draft text of book
The entire book is layed out and pages for type and those for illustrations are identified (Figure 2).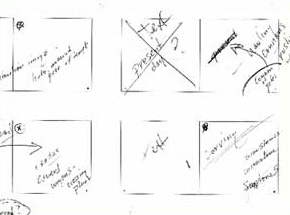 Figure 2: Rough layout of book
Step 2
The format was initially going to be virtical but was later adjusted to be horizontal. Small sketches or "thumbnails" are made to understand how the different subjects might be composed. Notes are added by the sketches for further clarification.
Figure 1: Thumbnail sketches and rough concepts for illustrations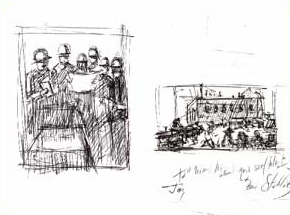 Step 3
"Thumbnails" are developed into more complete sketches or black and white "roughs." Lighting and values are identified for later photographing of reference.
Figure 1: Rough sketch for placement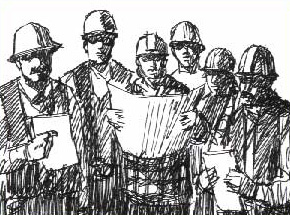 Step 4
These roughs are dropped into a full-sized series of layouts or "dummies" to see how the entire book will look from beginning to end. Additional notes are added for liniing up models and costumes.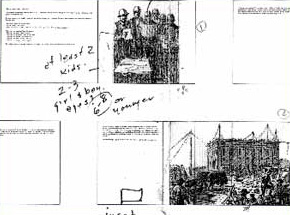 Figure 1: Rough composition with placed sketches
Step 5
After photographic reference has been created, a detailed sketch or "comprehensive rough" is made. This sketch and those shown below are developed after reference has been shot or located.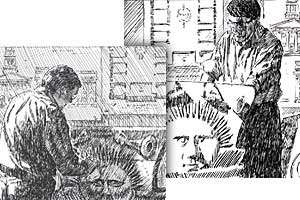 Figure 1: Alternate choices – man carving sun stone
In the process of developing sketches, many are edited out and not used. Others are modified or changed completely based on input from the designer or art director (below).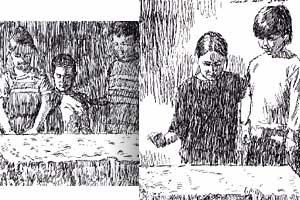 Figure 2: Alternate choices – posing the children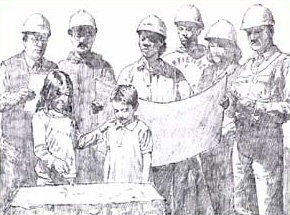 Figure 3: Final composite sketch
Step 6
Here is the finished illustration which is completed in mixed media. See the demo on book cover illustration to see a series of images showing how a typical illustration moves from start to finish.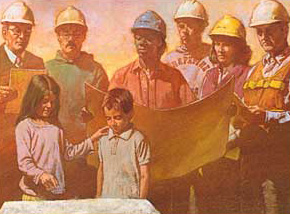 Figure 1: The finished illustration